Blog
Caves of Nerja in Malaga
When staying in the province of Málaga, the caves of Nerja should not be left out. The stalactite caves are among the main attractions in Spain and are referred to as the Cathedral of the Ages. This greatness gave them the title of national cultural historical monument in 1961.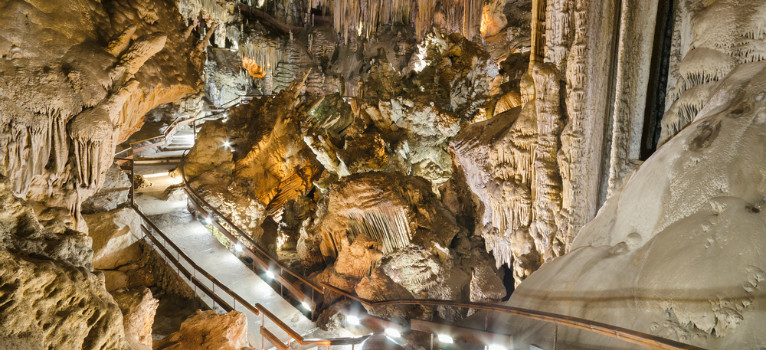 A mystical attraction on the Costa del Sol
The Caves of Nerja are located on the dolomitic marble base of the Sierra Almijara in Andalusia. Their length is more than 4,800 meters. This mystical attraction has been divided into three areas, of which only a small part is open to the public. All other parts are only accessible to scientists. But what the visitors are allowed to enter is sufficiently impressive. That's why many thousands of tourists come to Nerja year after year. The sight can easily be reached by car or bus. In the immediate vicinity of the entrance to the cave there is a guarded parking for a total of 300 vehicles.
A gift of chance
The caves of Nerja were discovered by accident. In 1959, children from the nearby village of Maro met them and told their friends, teachers and family about their find. However, it takes a few months for the caves to be officially explored. The discoverers had an exciting sight, for they came across finds from the past. Among them were stone tools, bones, paintings and clay ceramics. People from the Neolithic left in the caves cereal residues, ceramics, marble rings and bones. Particularly impressive are the paintings, of which the image of a deer stands out. Researchers assume that the caves of Nerja were used as dwellings by humans between 30,000 BC and 1,800 BC.
Opening hours:
The caves of Nerja can be visited all year round. Only on the 1st of January and on the 15th of May no entry is possible. In the winter months, a visit between 10 o'clock and 13 o'clock is possible as well as between 16 o'clock and 18.30 o'clock. In the high season July / August, it can be entered continuously between 10 o'clock and 18.30 o'clock. Last admission 30 minutes before.
As there is an International Dance Festival and Music Festival (Festival de la Cueva de Nerja) in July, you can only visit the site until 6pm on these days. Distributed over the year, the caves are always the venue for concerts due to their acoustics. Furthermore, it offers an interpretation center.